To add contacts and share your maps, you will need to ensure that you have registered an iMindMap user account, and that you have signed in. 
If you do not have an iMindMap user account, you can sign up for free here:
If you have not signed in to your iMindMap user account via your desktop software: 
Go to File

Options

Sign in to Cloud and Mobile.
Your desktop and user account will now be connected.
To add a contact:
Select File

Select iMindMap Cloud Contacts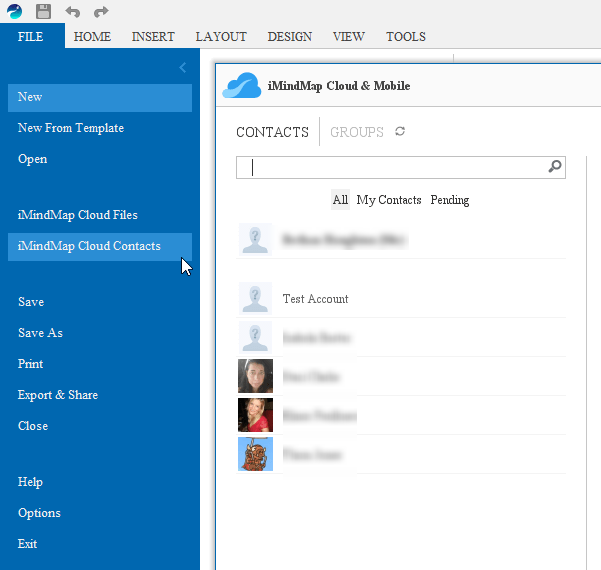 Search your contact's username by entering it into the search box and clicking the magnifying glass icon.

Select 'Search online'
Hover over your contact and select the '+' icon and then press yes.
Your contact will then receive a notification to accept your request.
To share your maps with each other so that you can both edit them, you will need to save them to the Cloud:
Open your map

Select File

Select 'Save As'

Select Cloud
Save your map to the Cloud under the desired name and then follow the steps below:
Go to file

Select iMindMap Cloud Files

Hover over the map you wish to share and select the Share icon (second from the left)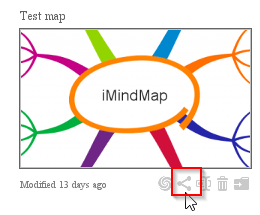 Next to your contact's name, you will see 3 icons - a share icon, eye and pencil. Select the pencil icon next to your contact's name and select OK.
You will now have successfully shared your map with your chosen contact.
Please note: You can both work on the map at the same time but changes to your map will not be viewed in real time. To view changes that you have both made, you will need to save the map and then close it. When you re-open it, you will see the changes.