PRINTING
---
PRINTING YOUR MIND MAP
To Print your Mind Map:
Run iMindMap 9, either opening or creating a new Mind Map
Go to File > Print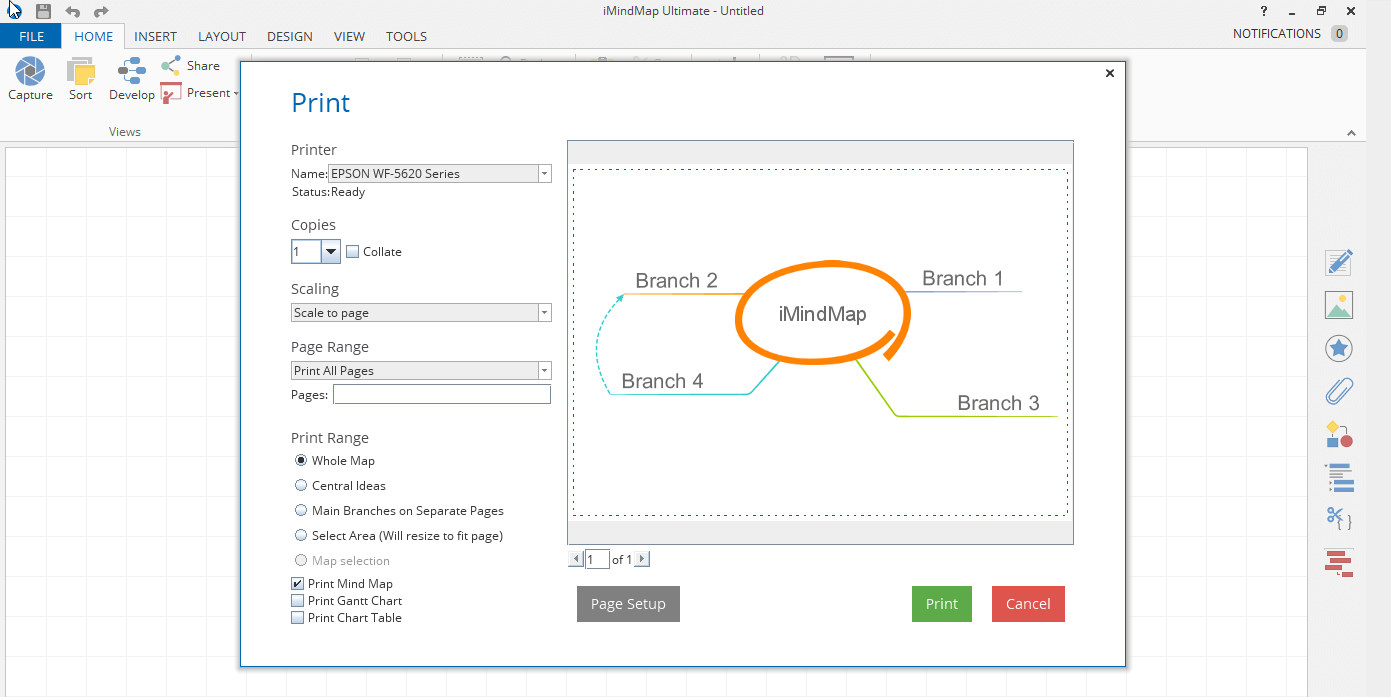 ---
PRINT SETTINGS
There are a number of print setting that you can choose from within the print window
Printer Name and Status - You can select what printer you wish to print from and view its current print status 
Copies - Select the number of copies you wish to print
Collate - Collates the printed documents
Scaling - You can choose how many pages you wish to print your Mind Map out onto. For example if you choose 'Scale to 2x2' this will print your Mind Map over a total of 4 pages
Page Range: Select to print all pages available, the current page you are viewing in the Print Preview, or a select range of pages. The page range relates to the number of pages displayed under the Print Preview screen.
Print Range: You can choose to print the Whole Mind Map, just the Central Ideas, only Main Branches, a specific area of the print preview screen as well as including the project Gantt Chart and Chart Tables.
PRINTING
iMindMap 9 comes with a built in feature to Print your Mind Maps using various settings to customise your printing. In this guide you can learn the following: 
---
PRINTING YOUR MIND MAP
To Print your Mind Map:
Firstly open an existing Mind Map or create a new one
Go to the File menu
Select Print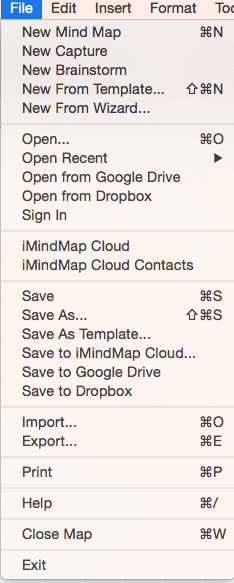 The Print menu will now display with a Print Preview
You can select the Print button from here to Print your Mind Map as it appears
---
PRINT SETTINGS
Below is an explanation for each of the settings that appear in the Print menu:
Printer Name and Status - You can select what printer you wish to print from and view its current print status
Copies - Select the number of copies you wish to print
Collate - Collates the printed documents
Scaling - You can choose how many pages you wish to print your Mind Map out on to. For example if you choose 'Scale to 2x2' this will print your Mind Map over a total of 4 pages
Page Range: Select to print all page available, the current page you are viewing in the Print preview, or a select Range of pages. The page range relates to the number of pages displayed under the Print Preview screen
Print Range: You can choose to print the Whole Mind Map, just the Central Ideas, only Main Branches, a specific area of the print preview screen as well as including the project Gantt Chart and Chart Tables